Venetian Doors tell Tale
(taken from previous Sentinel articles)
Each carved wooden door tells a tale about the city of canals thanks to the imagination of Owner Lou Bartfield and the expertise of Artist Alan Thorpe.
Bartfield commissioned the nine doors because; "I wanted in some way to symbolize the wedding between Capitola and California and Venice and Italy since it was the first inspiration for the complex."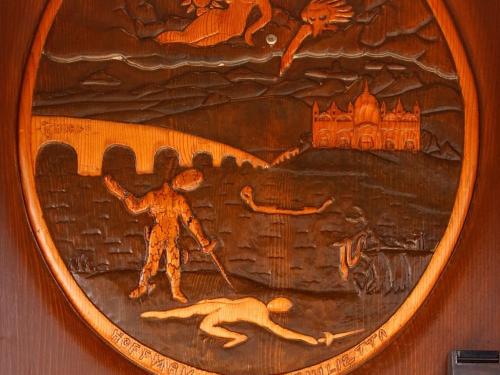 One of the most intricate doors tells the story about two men who fall in love with the most beautiful woman in Venice, unwound in Jaques Offenbach's opera, "Tales of Hoffman". The door shows Hoffman, one of Giulietta's fanciers, slaying Schlemiel, the competing admirer of the lovely lady. Bartfield explained the Giulietta told Hoffman she would only be his if he gave her his reflection in a mirror. That is why the carving is in the shape of a hand mirror and Hoffman's figure is carved as if he were shattered. Schlemiel, the opera goes, gave up his shadow to woe Giulietta. His slain figure on the door, therefore, lacks form and substance. The carving of Giulietta shows an aloof young women staring down at the scene in slight disinterest.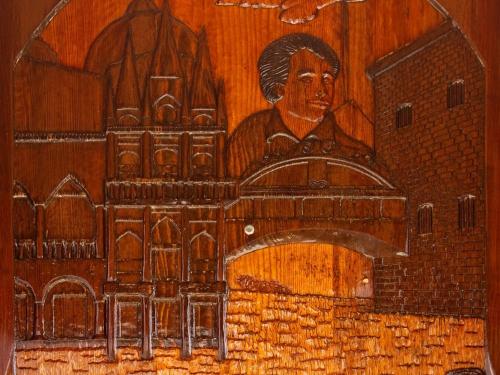 "Death in Venice", the Thomas Mann novel about an aging writer who goes to Venice in his declining years to become perplexed by a 12-year old boy, represents Bartfield's literary tastes on another door.
"I stood in Venice on the Bridge of Sighs, a prison and palace on either side," is the line from Lord Byron's poem, "Childe Herald Pilgrimage," that is depicted on another intricate doorway
The annals of literature on Venice would not be complete without Shakespeare's "Othello, The Moor of Venice." The carved door shows the scene from the play where the daughter of the Duke of Venice falls in love with Othello as the Black mercenary tells her tales from his life.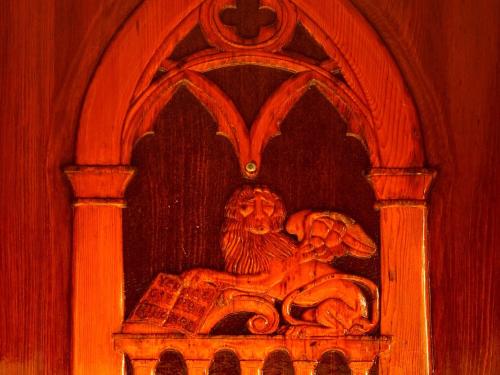 The lion of St. Mark, the patron saint of Venice, has become the symbol of this romantic city and stare's regally out from one of the Venetian's doorways. The winged lion image, Bartfield explains, probably came to Venice from Assyria about the time of the Crusades. The clever Venetians managed to turn this pagan image into a Christian symbol.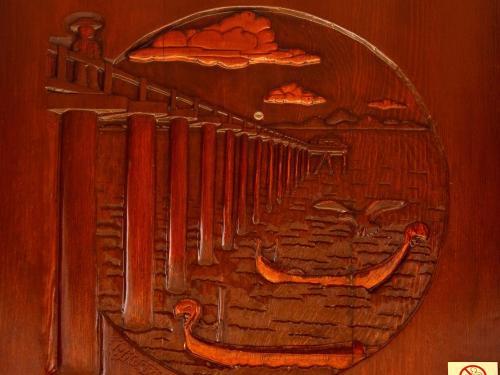 One whimsical rendition shows Venetian gondolas moored at Capitola's wharf. Another shows a sailboat out on the bay, reminiscent of the mercantile, naval city Venice once was.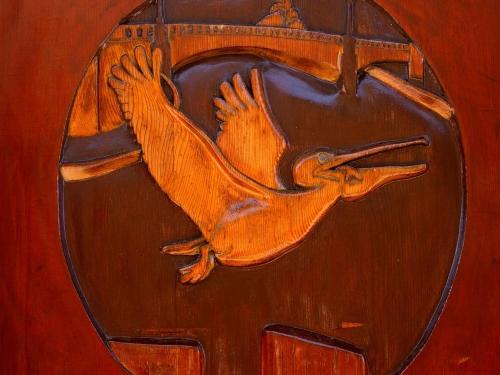 A pelican stares out from one of the doorways, his eye cleverly being the door's peephole. The Soquel Creek Bridge can be seen from this door and an identical image of the bridge is carved behind the bird.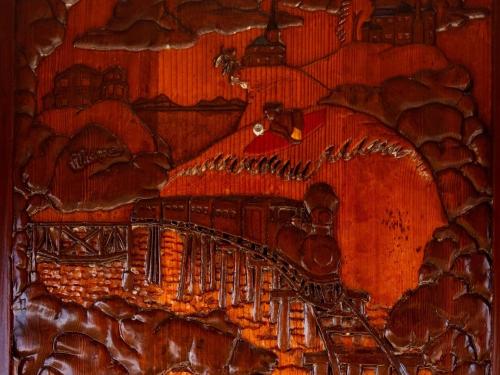 Capitola's Victorian homes, train trestle and surfers complete the full swing of these doors that weld the beauty of Venice in with the uniqueness of the Capitola Village.